Surprise! There's one last addition to this Spring Cleaning series and it's something I really need to do to get organized soon! One of my dear blog pals, Elycia of
Love, Elycia
is here to help us organize our shops and order forms!
Hi,
I'm elycia from
♥elycia
. I am a crafty, music and vintage loving, cat lady living in a basement in Southern Ontario, Canada with my fiancé and our 2 cats.
Allison asked me to participate in her awesome Spring Cleaning series so I thought I would share this DIY for organizing your etsy orders that I had done last summer.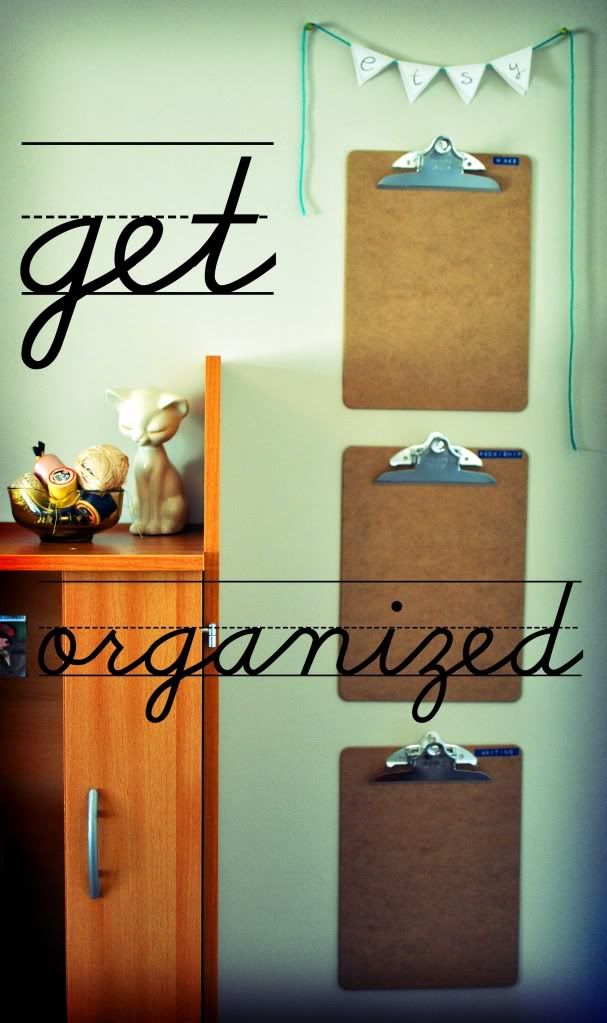 paper
scissors
marker
yarn or string
3 clipboards
label maker or stickers or paper
hammer and nails and push pins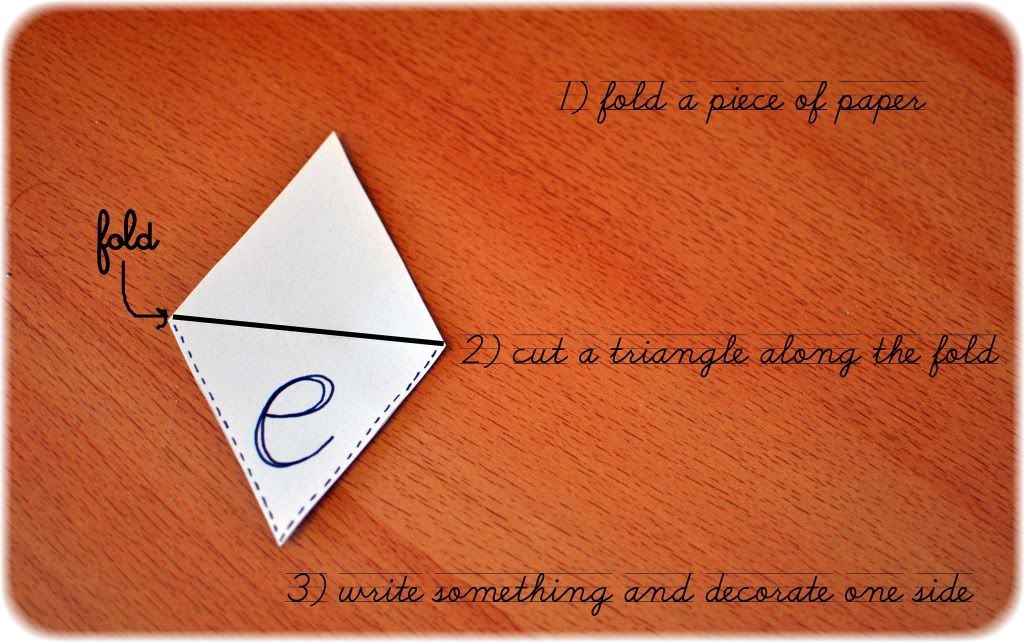 i drew out the letters for 'etsy' and did some lines around the edges to look like stitching.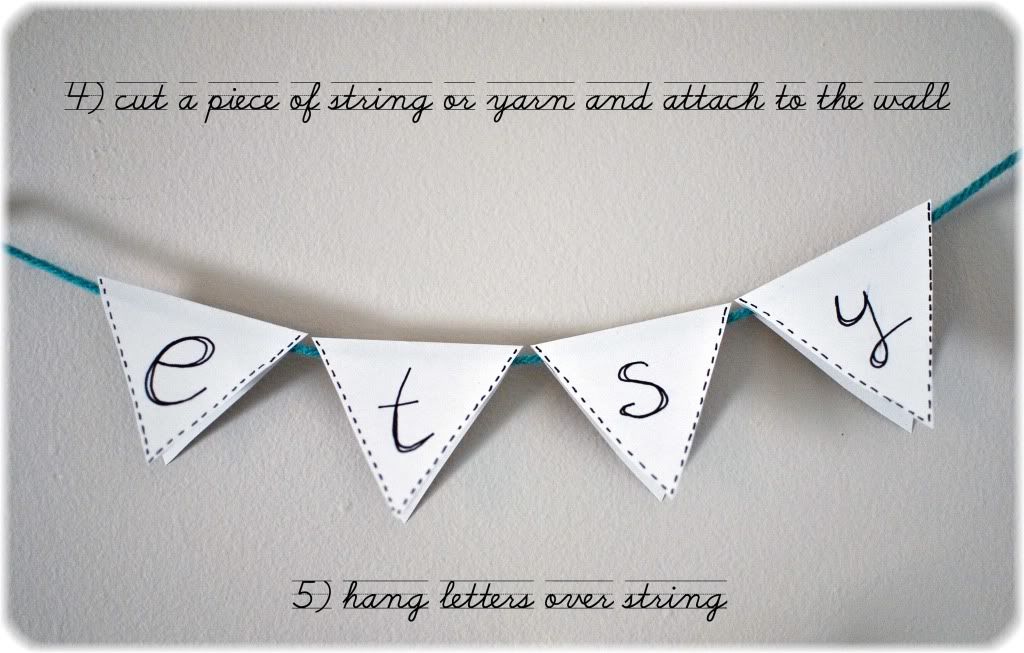 i stuck two push pins into the wall then wrapped and tied my yarn around them leaving enough so that the yarn would droop a bit in the middle. you could use nails if you prefer.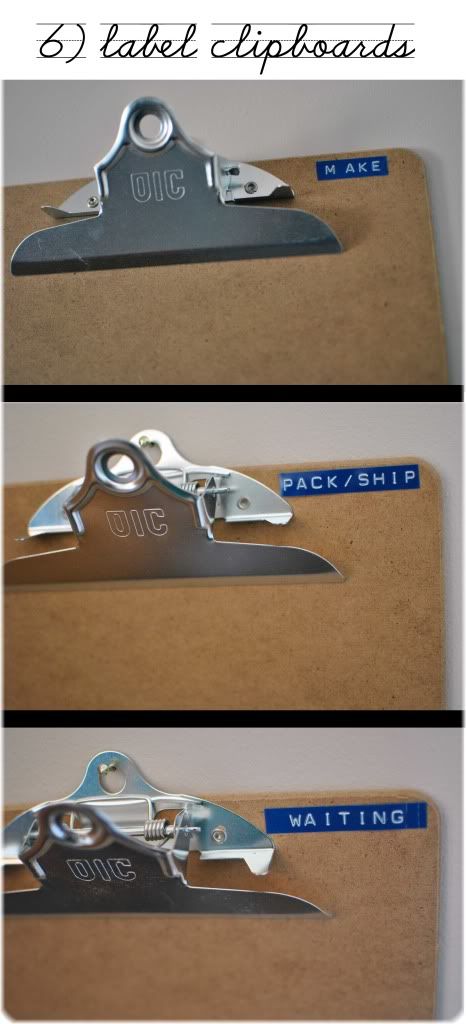 i recently acquired an old label maker (hooray!) so i used it to make my labels. you can use stickers, write or print on bits of cute paper, etc. 'make' is for custom orders that i need to finish, 'pack/ship' is for completed items that need to be lovingly packaged and sent on their way and 'waiting' is for items that i'm waiting on for some reason (specifics, payment, etc). you can make labels that work for you!
position your clipboards under your banner and hammer 3 nails into the wall to hang your 3 clipboards. this is super handy because if you need to you can just remove the whole clipboard from the wall, still keeping all of your papers organized :)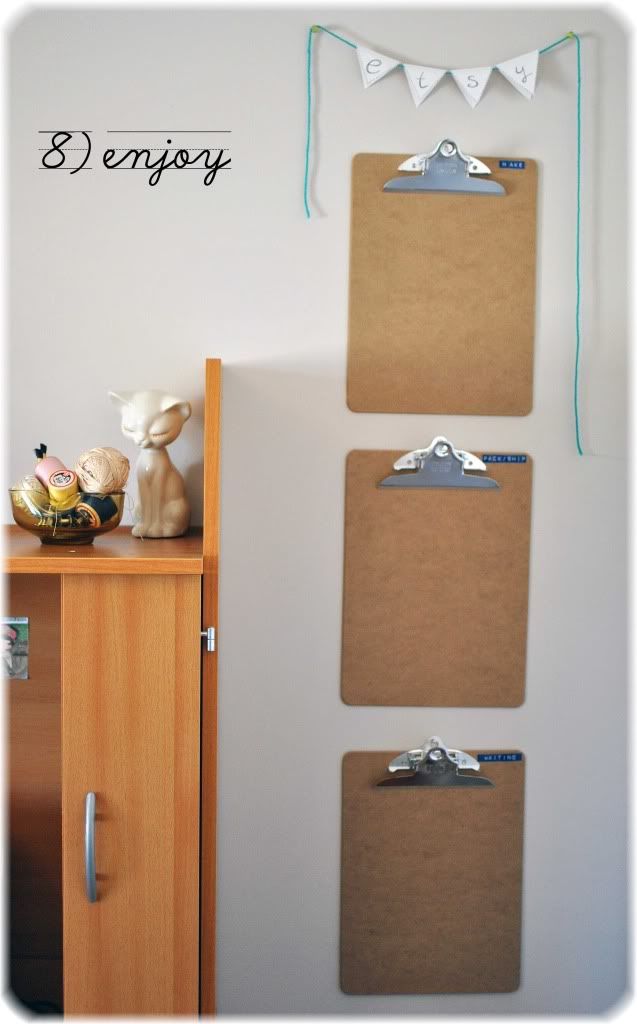 You're ready to fill the clipboards with all of your etsy orders! I print out my invoices and stick them into the appropriate clipboard so i always know what's up. another little tip: if your packaged items are small enough you can hang your ready to ship envelopes from the 'pack/ship' clipboard. i ♥ doing that.
Thanks so much for having me Allison! Hey, did you guys know that Allison is coming to visit me! She will be the second photographer at the wedding and we are so excited to have her!
♥elycia