Hello darlings!
I'm Shakti and I blog over at Shakti Dove
. I love, love, love making things and I'm so excited to share with you while
Allison
studies hard for her finals. (Good luck, Allison!)
Does anyone else have a deep love for Dr. Seuss that flares up around Christmas because of the Grinch and his thieving? This little DIY tutorial was inspired by Dr Seuss' illustrations and is a spin off of pom-pom flowers. I hope you enjoy making these glittery flower puffs!
Now that supplies have been amassed let's begin!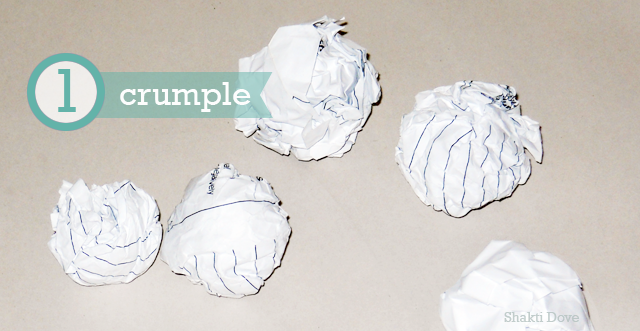 1) Take your scrap paper (old newspaper, junk mail, last semester's homework hehe) and wad it into a tight little ball. Unwadding and then re-wadding the paper a few times helps the ball get nice and tight. You will need one ball for each flower. (Hmmm, I don't think I said wad enough. Wad. Wad.)
The reason I chose to use wadded up paper instead of a Styrofoam balls is because I wanted to be sure that the charming, wibble-wobbly look of Dr. Seuss' illustrations was captured. You could totally use Styrofoam though if you wanted.
2)
Using the paint brush, smear Mod Podge on the tissue paper and then wrap it around the paper wad. I cut the tissue paper into squares to make it more manageable. The tissue paper is important because it creates a smooth over-layer on the ridges and folds of the paper wad.
3)
Let the flower puffs dry!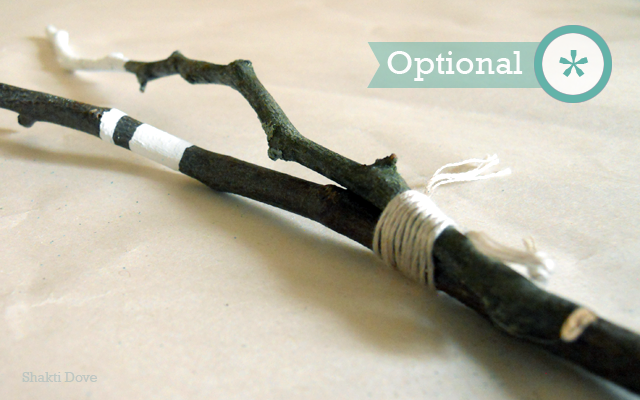 * OPTIONAL
- While the puffs are drying is a good time to decorate your twigs. I used white acrylic paint and a bit of embroidery thread for textural interest.
4)
Now that the flower puffs are dry, poke a hole in one side using a pencil or other such pointy utensil.
Now it's time to bust out the glitter! A couple years ago I splurged and bought a whole collection of Martha Stewart glitter and I'm glad I did. It's really nice and fine.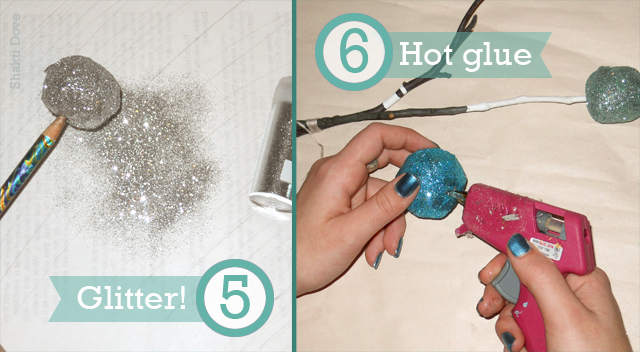 5)
Coat the flower puff with Mod Podge and sprinkle glitter on. Allow ample drying time and then shake off the excess glitter. When using glitter I always work over a piece of paper so that I can capture the excess and put it back into its bottle.
6)
Squirt a bit of hot glue into the hole poked with the pencil and pop the flower puff onto the twig. Finished!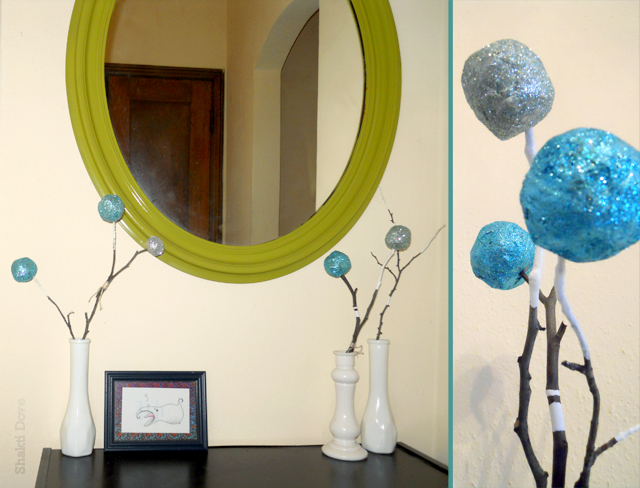 You never knew wads of paper could look so festive did you? For now I have my tribute to Whoville on a shelf but I'm thinking that these would also look super cute on a window sill.
I hope you have as much fun as I did making these! I would love to see your creations so pop
over
, say 'Hi', and share your link.
Thank you so much Shaki! This is so unbelievably cute!!! Wish me luck that I stay sane for the remainder of this week! If you'd like to submit a guest post to be featured on Crafted Love, just send me an email at info[AT]craftedlove.com! I could definitely use the blog sitting while I finish major projects and take exams!